How to Put
Drops in
Your Eyes
Get in touch with Dr Khalil Eye Clinic
HOW TO PUT DROPS CORRECTLY IN YOUR EYE
It is important to learn the correct way of how to put drops in the eye especially after having LASIK or another eye surgery, or during the receiving treatment for glaucoma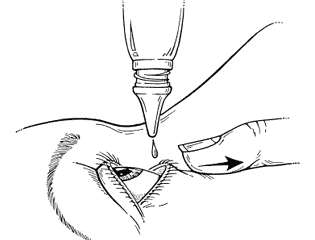 Without letting the tip of the bottle touch your eye or eyelid, squeeze one drop of the medicine into the space between your eye and your lower eyelid. One eye drop is sufficient, more than one drop is a waste.
After you squeeze the drop of medicine into your eye, close your eye. Then press a finger between your eye and the top of your nose. Press for several minutes. This way, more of the medicine stays in your eye. You'll be less likely to have side effects.
Wash your hands again after you put the drops in your eyes.
Don't let the tip of the bottle touch a table, the cabinet or anything else.
I need to take more than one glaucoma medicine. How do I do that?
Put a drop of the first medicine in your eye. Wait at least 10 minutes to put the second medicine in your eye. If you're taking three medicines, wait 10 more minutes before putting the third medicine in your eye. If you don't wait 10 minutes between medicines, some of the medicine may run out of your eye. If the medicine runs out of your eye, it doesn't help you.
If someone else puts your medicines in your eye for you, remind that person to wait 10 minutes
Dr Khalil Eye Clinic Specialties
A wide range of eye care procedures is offered at the highest standards at Dr Khalil Eye Clinic