Collagen Cross Linking​ in Egypt
Collagen cross linking (CXL) is a major breakthrough in threating keratoconus or the conical cornea
People with Keratoconus or ectasia develop progressive corneal bulging/ protrusion due to an inherent weakness of the corneal collagen. Collagen basically consists of many adjacent fibrils. The stiffness and strength of collagen is in turn related to the number of links between adjacent fibrils. These cross-links increase spontaneously as we age.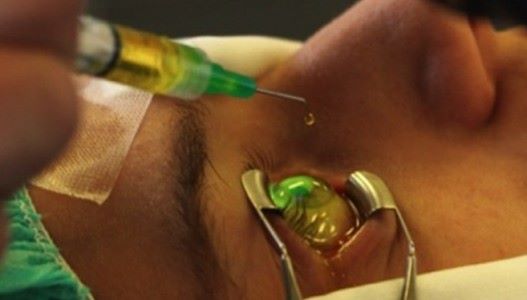 In the last few years a way to medically strengthen the cornea by increasing the number of collagen cross-links has become available. The full name of the procedure is corneal collagen cross-linking with riboflavin, also called C3R or CXL for short. It is used to strengthen the cornea in people with keratoconus or corneal ectasia following complicated refractive surgerry. In doing so, corneal collagen cross-linking can stop keratoconus from worsening. It can also help flatten the central cornea in about 50% of patients, who often experience better vision as a result.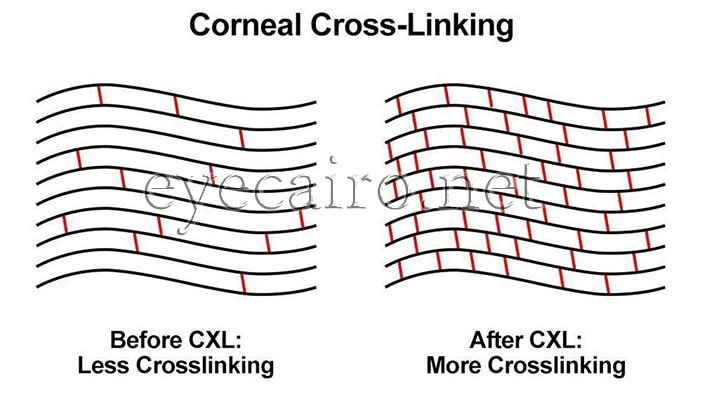 CXL was performed in Cairo, Egypt very early after its inception. The procedure is relatively simple, highly effective and completely painless. It's also very safe, and any complications are extremely unlikely. Dr Khalil is following up many patients with their stabilised corneas, for whom he has performed cross linking years ago, when CXL was just starting. In many instances, when performed properly, it does not only stabilize the cornea, but also leads to noticeable improvement in vision quality.
Following cross linking, other forms of treatment of keratoconus, like RGP lens fitting or femtosecond ring implantation are usually done to improve the visual outcome.
How is cross linking (CXL) performed, what are the steps of collagen crosslinking?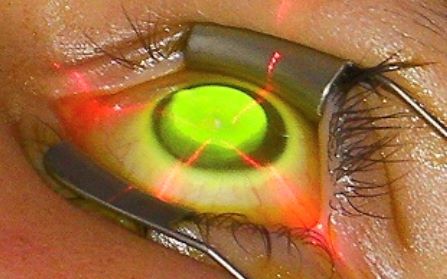 Before the procedure, you'll be given a local anaesthetic, so you won't feel any pain

Dr Khalil will carefully and painlessly remove a thin layer on the surface of your cornea, and an accuarately calibrated riboflavin (Vitamin B2) drops will be applied to your eye for adjusted time.

Then, a measured dosage of UV light is applied to your cornea for a further adjusted time at calculated intervals. Together with the riboflavin, the UV light encourages bonds between collagen fibrils to form, strengthening your cornea.

After the treatment, Dr Khalil will apply a contact lens w on your eye to help with healing and make your eye more comfortable. You'll need to keep this in place for a few days, and you'll also be given eye drops to use. Any discomfort during healing is usually mild, and should only last the first few days.

 

You will need to visit the office of Dr Khalil at a set appointment for necessary follow up and removal of the contact lens
Messages from some of Dr Ahmad Khalil Eye Clinic friends, who had their eye operations done by Dr Khalil
I wish to convey my most sincere gratitude for the opportunity to have you perform my Lasik procedure. I could not have imagined any better care, patience and understanding, pre and post surgery, than that which I received from your team. I am thrilled with my eye sight. My friends here are amazed at my lasik story and I have found that I can see more clearly than they!!!
It is surely an apprehensive feeling when one decides for LASIK. I....after meeting Dr. Ahmed Khalil I knew I was in safe hands. My surgery was performed last week and today I sit infront of my laptop thanking Allah and Dr. Khalil for giving me such clear vision. Anyone out there thinking for LASIK should not think twice for choosing Dr. Ahmed Khalil, ...... You are not only a great doctor but a great human being too
My name is Cedric Mouroux, I am from France... I had a myopia and a very strong astigmatism (-5.75 and -5.25), I can really recommend Dr Khalil, he did an amazing work on my eyes and really changed my life, I wasn't expecting such great results and my only regret is that I should have done it before! Thank you so much Doctor for what you did to me, and I am so glad I trusted you for this operation.
..Je peux vraiment recommander le Dr Khalil, il a fait une opération sur mes yeux parfaite et a vraiment change ma vie, je ne m'attendais pas a de tels résultats et je regrette juste de ne pas l'avoir fait plus tôt ! Merci beaucoup Docteur pour ce que vous avez fait pour moi et je suis vraiment content de vous avoir fait confiance pour cette opération très importante pour moi.
I want to thank you for being God's hand in giving me back my sight, ... I can't find words to express my gratitude. The procedure was a piece of cake, it was a painless journey that I feared so much until I was only comforted by your confident and calm voice explaining every step and making it so much easier. The care of Dr Ahmad Khalil about details is exceptional.
For my birthday,August 2010 i wanted perfect vision,little did i know my dream would come true. Laser eye surgery works like a charm! Its the best decision i ever made and the best birthday gift ever! I can see clearly now, it seems like a whole new world. I was scared and wary at first but the minute i met Dr. Khalil, all my fears were gone with the wind.
The procedure took about 15 minutes. There was no pain whatsoever. In fact the process was quite psychedelic and a bit like going into space and back again. For a few hours after the treatment, vision is blurred as the eyes readjust. But the benefits are soon realised with more improvements the following day.
My name is Aseel Rasul, an Iraqi living in Denmark, I can not but give my deep gratitude and appreciation to the angel of mercy, who did my LASIK vision correction operation. I was scared as I had never had any operation before. The calm and clever Dr Ahmad Khalil has made me say good bye to the use of glasses and contact lenses and all their inconveniences.
لمدة 21 عاماً عانيت خلالها من أرتداء النظاره بشكل متواصل لأننى لا أستطيع التركيز من غيرها وأحمد الله كثيراً على أننى أجريت عملية الليزك على يد أحد أكبر أساتذة فى العالم وهو الدكتور / أحمد خليل طبيب العيون القدير فالشكر لله أولاً ثم للدكتور أحمد على عنايته الفائقه بكل مرضاه وشرحه الوافى لكل خطوات العمليه . أستطيع الأن ممارسة حياتى بشكل طبيعى وخصوصاً اللعب مع أطفالى بكل سهوله ويسر دون الخوف عليهم من أصابتهم من نظارتى
I was really impressed with the personal and caring approach, from my initial consultation, through the Lasik surgery, and afterwards during follow-up checks from Dr. Khalil. Based upon my own experience I would definitely recommend Dr. Khalil's clinic to anyone who is considering LASIK treatment and is concerned about getting a high quality service and personal approach.
It is a marvel that I can open my eyes in the morning and see clearly straight away without looking for my glasses. Diving is easier without a fear of losing my contact lens which has happened to me before. I can take my mask off underwater and open my eyes without any worries. It has definitely changed my life and make everyday living much easier. I have been recommending this operation to my friends.....
To distinguished Genius, Prof Dr Ahmad Khalil: Please accept my sincere thanks for your proper medical care of my condition. I came to you with diabetic eye disease, cataracts, and glaucoma.... because of your distinguished care of my condition, my chronic diseases is controlled, and thanks to your dextrous hands, you performed my cataract operations, and I could resume my favourite hobby of reading, and go back to driving....your total care of my eye conditions
I would like to thank DR. Ahmed for the amazing treatment while doing my surgery . you are the most trustful doctor one can ever meet . I can't find words to describe how much you were caring , patient and helpful. I was so reassured and secure because I know that I am in your hands. the best decision I have ever taken is to make the surgery with you, thank to God and you Dr, Ahmed I can see clearly now. you are a great doctor. May God bless you
We would like to express our genuine gratitude for your dedication to our daughter's case. We thought we'd share our experience here if you don't mind. Our daughter, Zeina was diagnosed with Primary Congenital Glaucoma. We did lots of research and Dr. Ahmed was the most recommended to us. He was honest, direct and..
I would like to say thank you very very much to Dr. You are very professional . I saw many Dr. But I decided to make operation wz you cos you explain well made I feel comfortable and trust you. Now my eyes became wonderful
I was so pleased to find Dr. Khalil for my cataract surgery! My wife and I appreciated so very much his professionalism concerning the surgery and his explanations of everything that was going to happen. We feel that we could not have gotten better care anywhere.
Dr Khalil Eye Clinic Specialties
A wide range of eye care procedures is offered at the best standards at Dr Khalil Eye Clinic in Cairo